Jonathan Manhard, M.D.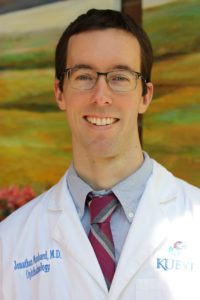 Eye Doctor Burlington, VT
Originally from Durham, North Carolina, Dr. Manhard is excited to call Vermont his new home. He graduated from the University of North Carolina – Asheville with a Bachelor of Science in Biology with a focus on cell and molecular biology.
During medical school at the University of North Carolina – Chapel Hill, the field of ophthalmology drew him in with its challenging blend of science and technology. After he completed an internship in Internal Medicine at Virginia Tech – Carilion Clinic, he did his Ophthalmology residency at KU Eye where he served as the chief resident.
During residency, he routinely scored in the top percentiles in his training exams and in his surgical volumes. In addition to operating and seeing patients in the clinic, he also taught junior residents and medical students and has presented on multiple topics about eye health and disease. Just as the blend of technology and biology originally drew him to ophthalmology, he strives to incorporate data science in giving patients the best possible outcomes.
Having fallen in love with the green mountains and silver lakes of Vermont, he will be joining New England Vision in the Fall of 2019. He lives with his wife Jenny, who is currently completing her residency in Psychiatry, and enjoys spending his free time exploring the outdoors.