Jen Devita, O.D.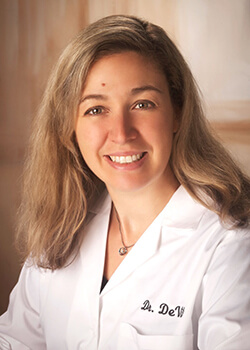 Eye Doctor in Burlington, VT

Jennifer DeVita, OD., Graduated from the University at Buffalo in 1997 with a Bachelor of Arts degree in biology. She then attended the New England College of Optometry and graduated with a Doctor of Optometry degree in 2001. During that time, she interned at the Joslin Diabetes Center, Beth Israel Medical Center, and multiple community health centers in the Boston area. She completed her residency in Ocular Disease at the VA Hospital in Boston, MA in June 2002.
During her residency, she also trained at the Mass Eye and Ear infirmary in glaucoma treatment. Dr. DeVita was further trained as a Retina Telemedicine specialist at The Joslin Diabetes Center in Boston, MA. After her residency, Dr. DeVita became an assistant professor at the New England College of Optometry and Director of the Eye Clinic at the Community Health Center affiliated with Children's Hospital, Boston. She was an attending to students and was Eye Clinic Director until 2004 when she decided to move to Vermont.
Dr. DeVita has been working with Dr. Larson since 2005. She is a member of the Vermont Optometric Association and is board-certified by the American Board of Certification in Medical Optometry. She currently resides with her husband and two children in Colchester, VT.