Noah Saipe, M.D.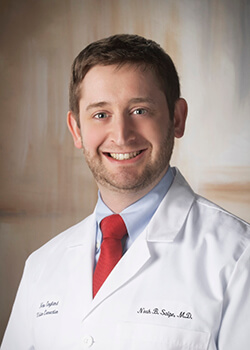 Noah Saipe, M.D. is a fellowship-trained cornea, cataract, and refractive surgeon specializing in comprehensive ophthalmology and anterior segment pathology. He prides himself on his bedside manner, on his ability to explain complex problems in easy-to-understand language, and on his eagerness to include patients in all treatment decisions.
Dr. Saipe was raised in the town of Libertyville, a suburb north of Chicago. He was a student at Libertyville's public high school, where he graduated in the Top 10 of his class of over 400 students and was named an Illinois State Scholar. Dr. Saipe then attended Princeton University, the #1-ranked university in the country.
He studied neuroscience and psychology, graduating with honors. Dr. Saipe went on to receive his medical degree from Rush Medical College in Chicago, where he received numerous academic scholarships and was elected to the Alpha Omega Alpha medical honor society. Dr. Saipe then completed his internship at MacNeal Hospital in Berwyn, IL. While there, he was elected by his peers as the group's representative to the administration, and he was also named the Most politically-minded Intern.
Dr. Saipe then completed his residency in ophthalmology at the acclaimed University of Wisconsin in Madison. During his residency, in addition to receiving outstanding clinical evaluations and near-perfect patient satisfaction scores, he served as the refractive surgery patient recruitment coordinator and was recognized for his outstanding knowledge of ocular pathology. Dr. Saipe also lectured frequently on topics that included refractive cataract surgery, new intraocular lens technology, corneal histopathology, and pigmented periocular lesions, and he published numerous articles in prestigious peer-reviewed journals.
Following residency, Dr. Saipe chose to further his knowledge and expertise by completing a fellowship in Cornea, External Disease, and Refractive Surgery. Under the tutelage of esteemed mentors Neal Barney, M.D. and Sarah Nehls, M.D. at the University of Wisconsin, he acquired specialized knowledge on the management of corneal disorders and ocular surface diseases, and he received unique surgical training on corneal transplantation, complex anterior segment reconstruction, and various types of refractive surgery. Dr. Saipe was recognized at the end of his fellowship for his dedication to the teaching of residents and medical students, as well as for his superb surgical skills.
Dr. Saipe is board certified by the American Board of Ophthalmology, and he is a member of the American Academy of Ophthalmology, the Vermont Ophthalmological Society, the American Society of Cataract and Refractive Surgery, and the Cornea Society.
Throughout his education, Dr. Saipe has been passionately dedicated to volunteerism. At Princeton, he was an active participant in the Student Volunteers Council. He constructed houses for impoverished families in Trenton, regularly visited pediatric cancer patients in New Brunswick, and assisted at multiple food pantries. During medical school, Dr. Saipe was on the steering committee of a healthcare clinic for the homeless, using his position to improve the efficiency and quality of patient care, renovate the clinic space, and directly treat patients. In addition, he was the community service chair of his medical school's chapter of the American Medical Association.
In this role, Dr. Saipe organized a team (and raised thousands of dollars!) for Chicago's Walk Against ALS, served Thanksgiving dinner at the local soup kitchen, enrolled disadvantaged teens in health insurance plans, and organized a holiday gift-drive for low-income families. Dr. Saipe's public service then continued during his residency and fellowship, when he participated in outreach clinics for uninsured patients and also spent weekends performing eye examinations on veterans.
Dr. Saipe has been with New England Vision since the fall of 2016. He enjoys using his training to treat patients with a wide variety of needs – from comprehensive ophthalmology to cataract surgery to corneal problems to refractive surgery and beyond. He also enjoys continuing to help those in need.
At home, Noah is the lucky husband of Adriana, who runs her own illustration business, and the proud father of their young daughter Vivian. The whole family adores being Vermonters!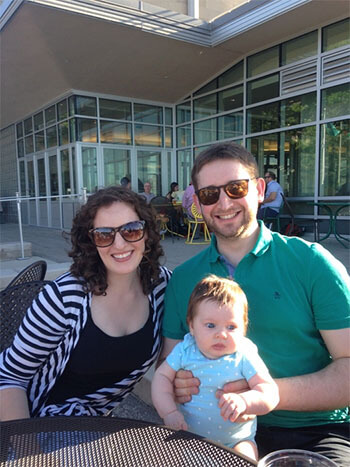 They love spending time outdoors – whether it's hiking, adventuring with their golden doodle Copernicus, or just picnicking next to beautiful sunsets. Noah also has a profound interest in technology (ask him about the computer he built!) and jazz (ask him about playing trumpet for 15 years!). And besides eyeballs and corneas, he would love to talk to you about the most recent episode of This American Life!